|
 Posted by Jay Brooks  www. realbeer.com
Anchor Brewing
 is set to release a very special, limited edition, beer they've been working on for a long, long time. Dubbed "Our Barrel Ale," (an homage to their Christmas beer, "Our Special Ale"), it's a blend of at least three of their beers. While just a guess, the three are possibly Liberty, Porter and Old Foghorn. All we can say for sure is it's not Anchor Steam. The individual beers were aged in Anchor's own used Old Potrero rye whisky barrels for at least six months, then blended together to create OBA. Only 100 cases of magnums will be available for sale when it's released in mid-February. And you can only buy them at the brewery. The price will be $30.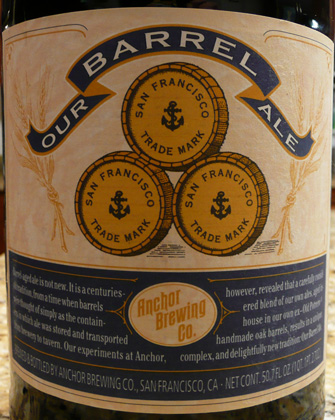 We had an opportunity to try OBA last night at Anchor Brewery, at an event to launch SF Beer Week
, a ten-day series of over 150 beer events in the San Francisco Bay Area. I'd say they nailed it out of the gate. The flavor imparted from the barrel aging is present, but is never overpowering, and the blend — whatever it turns out to be — works. It's malty, sweet with an underlying hop character that is all integrated together so that nothing really dominates. This gives it a very smooth mouthfeel and nice complex flavor profile, exactly what a blended beer should be — something greater than the sum of its part. This is going to go fast, so get yourself a bottle or two before it's all gone.